Political Opinion: TEMPEST IN A TEAPOT: NADER'S ANNOUNCEMENT FOR THE PRESIDENCY IN 2008. HE IS HELL BENT IN HAVING "SPOILER" ON HIS TOMBSTONE.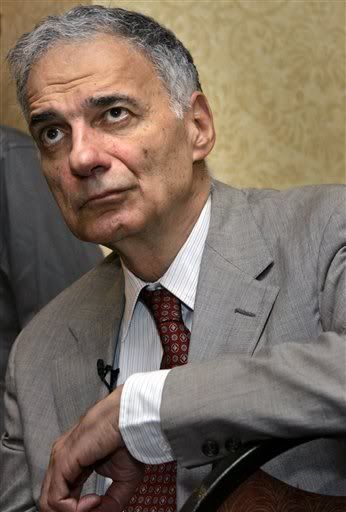 (click here) FOR ANNOUNCEMENT.
Ralph Nader, who is 74, announced he is intending to run for the presidency in 2008. This is the man who steadfastly denies that his campaign in 2000 siphoned enough votes away from Al Gore to George Bush, in Florida, to cause a recount dispute and give the Republican dominated Supreme Court the chance to decide in Bush's favor.
This is the equivalent of Nader cutting his nose off to spite his face for the third time. Maybe like Pinocchio his nose just keeps growing.
Whatever his goals are, his chances of making a difference in this election are nil.
In 2000 he received 2.7 percent of the vote. In 2004, he received only 0.3 percent. With that kind of rejection he still says he is not a spoiler.
In 2000 Nader received 97000 votes in Florida. Votes that mostly would have gone to Gore and eliminated the counting and judicial skullduggery that followed. Gore would have been President these last eight years with decidedly different consequences for the United States and the World.
In 2004 Nader was only on the ballot in thirty three states and he had to file numerous lawsuits to reach that total. I wonder who paid for registering in those states as well as the litigation. Do you think he was helped by the Republican Party, who he served so well in 2000?
With just .3 percent of the vote in 2004 it seems Nader's capacity for doing damage in a presidential election is gone. Nader was at his best working inside the Democratic Party it is a shame that the first paragraph of his obituary will state the fact he was the spoiler who enabled George Bush and his cadre to seize the Presidency in 2000.
It should be said that Ralph Nader has raised and spent a lot money on noble causes in behalf of the American people. Therefore he must believe what he is doing is for a worthwhile cause and not just for his personal enrichment or aggrandizement.
In his announcement he states the what is wrong with our democracy and the refusal of both parties to redress these issues. He points out that approximately 1500 corporations through their lobbyists receive the attention and much of the benefits of the government. What he says is true but for him the best way to address these problems is to work through the Democratic Party not by starting a third party.
However he appears hell-bent on having the term spoiler on his tombstone even when his capacity to be one is gone no matter what the loss to his reputation
Comments