Political Opinion: MR. BERNANKE I HOPE WE ARE NOT LIVING IN INTERESTING TIMES. "May You Live In Interesting Times." Translation Of An Ancient Chinese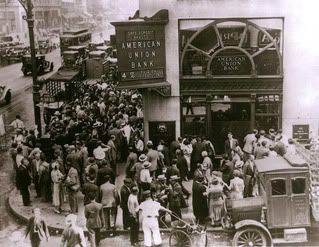 Bank Failures Were Common during The Great Depression Caused When The Federal Reserve Bank (Fed) Tightened the Money Supply Instead Of Increasing It.
On February 28, 2008 Bernanke told Congress that economic conditions were worsening and that he intended to lower interest rates to counter the slow down despite the inflationary pressures. He believes the slowing economy will act as a brake on inflationary pressures in the short term. However look for the Fed to raise interest rates when the economy starts to revive if inflation remains a problem. Hopefully this will not trigger a new sub prime crisis and a credit crunch.
While interest rates were cut by 125 basis points in January the reduction had little effect on mortgage rates. Bankers also stiffened their lending requirements. This means that the Fed cuts, so far, has had little impact on the sub prime crisis which has spread to other parts of the economy causing a general down turn.
Despite the fact the Federal Reserve Bank decreased the cost of money to lenders the reduced interest rates are not being passed on to borrowers. Lenders are also raising the qualifications necessary for loans. Therefore the persons most likely to default on their loans, the sub prime borrowers, are not being allowed to refinance
by lenders.
Isn't this what happened in the Great Depression. Bankers panicked and stopped lending and called in loans which decreased the money supply which caused the economy to spiral down with increased business and bank failures coupled with mortgage foreclosures. The Fed at the time, contrary to what Bernanke is doing now, also tightened the money supply by raising interest rates. The result: a massive decrease in productivity and 25% unemployment.
Mr. Bernanke, I hope we are not living in interesting times.
Comments