Political Opinion: IT SEEMS SHAKESPEARE KNEW BILL CLINTON TOO!
Did Shakespeare foresee Bill Clinton's Misstep in South Carolina as indeed he foresaw the other stages of his life? "His youthful hose, well saved, a world too wide For his shrunk shank;"
THE SIXTH AGE SHIFTS
INTO THE LEAN AND SLIPPERED'D PANTALOON,
WITH SPECTACLES ON NOSE AND POUCH ON SIDE,
HIS YOUTHFUL HOSE, WELL SAVED, A WORLD TOO WIDE
FOR HIS SHRUNK SHANK; AND HIS BIG MANLY VOICE,
TURNING AGAIN TOWARD CHILDISH TREBLE, PIPES
AND WHISTLES IN HIS SOUND.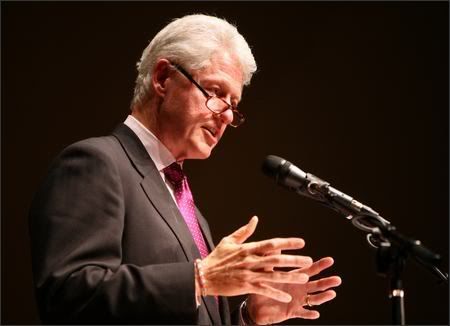 Bill Clinton gave words to his thoughts and a lot of other people's thoughts when he inferred that the election in S. Carolina was being skewed by issues of race and gender. It turns out that the exit polls demonstrated that many people appeared to have voted along race and gender lines instead of on experience and qualifications. However to make an issue out of this would tear the Democratic Party asunder. This thought was best left unsaid as it would weaken the fabric of the Democratic Party and make who ever is nominated vulnerable to the Republican onslaught of vilification, aspersions and lies that is sure to come in the general election. Shakespeare seems to have foreseen this phase of Bill Clinton's life or perhaps it is more evidence in general of life's "tale told by an idiot, full of sound and fury, signifying nothing." Let's hope this event was an anomaly or sound and fury signifying nothing that will not be true of the remaining primaries or the general election. Bill Clinton being as close as he is to Hillary and her quest is to be forgiven for speaking his mind in a situation so emotionally charged for him and his family. The passage from Shakespeare follows and the bolding and insertion are by another.
All the world's a stage,
And all the men and women merely players:
They have their exits and their entrances;
And one man in his time plays many parts,
His acts being seven ages. At first the infant,
Mewling and puking in the nurse's arms.
And then the whining school-boy, with his satchel
And shining morning face, creeping like snail
Unwillingly to school. And then the lover,
Sighing like furnace, with a woeful ballad
Made to his mistress' eyebrow. Then a soldier,(politician warrior in Clinton's case)
Full of strange oaths and bearded like the pard,
Jealous in honour, sudden and quick in quarrel,
Seeking the bubble reputation
Even in the cannon's mouth. And then the justice,
In fair round belly with good capon lined,
With eyes severe and beard of formal cut,
Full of wise saws and modern instances;
And so he plays his part. THE SIXTH AGE SHIFTS
INTO THE LEAN AND SLIPPERED'D PANTALOON,
WITH SPECTACLES ON NOSE AND POUCH ON SIDE,
HIS YOUTHFUL HOSE, WELL SAVED, A WORLD TOO WIDE
FOR HIS SHRUNK SHANK; AND HIS BIG MANLY VOICE,
TURNING AGAIN TOWARD CHILDISH TREBLE, PIPES
AND WHISTLES IN HIS SOUND. Last scene of all,
That ends this strange eventful history,
Is second childishness and mere oblivion,
Sans teeth, sans eyes, sans taste, sans everything.
William Shakespeare – All the world's a stage (from As You Like It 2/7)
Comments