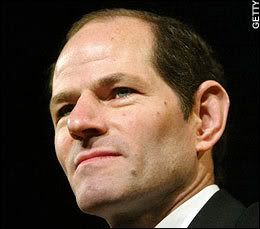 EXACTLY WHO WINS AND LOSES? THE COST BENEFIT ANALYSIS.
"Let he who is without sin cast the first stone…" Jesus Christ.
It seems Eliot Spitzer may be sinner but he was not offered forgiveness or succor by the flacks and mob that relished the downfall of such and able and powerful man. Many of those who condemned him were guilty of their own sexual misadventures like Bill O'Reilly at Fox News. He was one of the loudest and longest to condemn.
Spitzer had been a very effective Attorney General who brought many suits against the powerful. These included actions against fraudulent practices in the banking, securities and insurance communities. As a result billions of dollars were returned to average citizens and small investors or paid as fines. Thus he had many powerful enemies. Then he ran as the Democratic candidate for the Governor of New York and won by sixty-nine percent of the vote. This win and his past work as a hard charging Attorney General against the misdeeds of the rich and powerful made him a contender for higher political office such as Vice President or possibly President.
One wonders why a bank would find cash transactions over a number of years allegedly totaling $80,000.00 so unusual in a place like New York, the financial capital of the world. The exception here being that the account belonged to a man they knew to be an adversary to unlawful and fraudulent banking practices.
The bank's questions were not bought to his attention for an explanation like any good bank would do with a valued customer. Instead it was turned over the Internal Revenue Service for investigation. The IRS finding no violation passed it on to the U.S. Attorney's Office in New York. The result: 6000 wire taped conversations on an escort service that received about $16000 of Spitzer's money. The taps allegedly revealed some of the money was used by Spitzer to pay for an escort. This service was naïve enough in these days of the Patriot Act to require clients to transfer money to an offshore bank account. A complaint was filed against the escort service referring to a client number nine. Spitzer's identity as client number nine was leaked to the NY Times and later the escort's name came out as she was compelled to testify in court. No one has identified the leaker.
Strangely, no other client's name has been revealed or leaked and there must be hundreds if not thousands of them. One wonders what all the 6000 wire taped conversations revealed, not just the ones related to Spitzer which found there way so easily into the press.
Was Spitzer targeted as a strong democrat to be destroyed by the Bush appointed U.S. Attorney? That office was upstaged and embarrassed by the work of Spitzer as the State Attorney General. Many of the actions could have been bought by the SEC or the U.S. Attorneys office if the Bush Justice Department was interested in protecting the public. There was a score to settle here as well as the opportunity to cripple a strong democratic candidate.
EXACTLY WHO WINS AND LOSES? THE COST BENEFIT ANALYSIS. Read more…