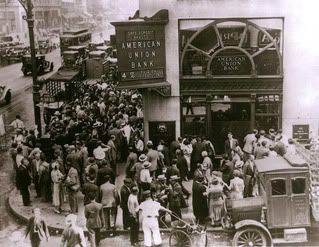 Bank Failures Were Common during The Great Depression Caused When The Federal Reserve Bank (Fed) Tightened the Money Supply Instead Of Increasing It.
On February 28, 2008 Bernanke told Congress that economic conditions were worsening and that he intended to lower interest rates to counter the slow down despite the inflationary pressures. He believes the slowing economy will act as a brake on inflationary pressures in the short term. However look for the Fed to raise interest rates when the economy starts to revive if inflation remains a problem. Hopefully this will not trigger a new sub prime crisis and a credit crunch.
While interest rates were cut by 125 basis points in January the reduction had little effect on mortgage rates. Bankers also stiffened their lending requirements. This means that the Fed cuts, so far, has had little impact on the sub prime crisis which has spread to other parts of the economy causing a general down turn.
Despite the fact the Federal Reserve Bank decreased the cost of money to lenders the reduced interest rates are not being passed on to borrowers. Lenders are also raising the qualifications necessary for loans. Therefore the persons most likely to default on their loans, the sub prime borrowers, are not being allowed to refinance
by lenders.
Isn't this what happened in the Great Depression. Bankers panicked and stopped lending and called in loans which decreased the money supply which caused the economy to spiral down with increased business and bank failures coupled with mortgage foreclosures. The Fed at the time, contrary to what Bernanke is doing now, also tightened the money supply by raising interest rates. The result: a massive decrease in productivity and 25% unemployment.
Mr. Bernanke, I hope we are not living in interesting times.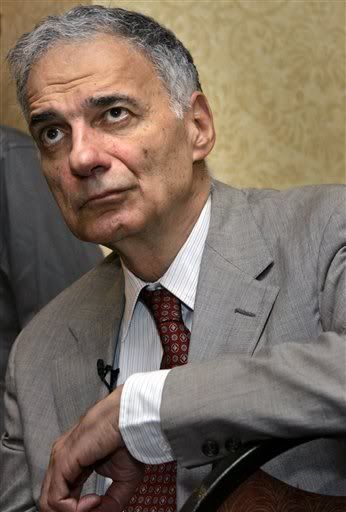 (click here) FOR ANNOUNCEMENT.
Ralph Nader, who is 74, announced he is intending to run for the presidency in 2008. This is the man who steadfastly denies that his campaign in 2000 siphoned enough votes away from Al Gore to George Bush, in Florida, to cause a recount dispute and give the Republican dominated Supreme Court the chance to decide in Bush's favor.
This is the equivalent of Nader cutting his nose off to spite his face for the third time. Maybe like Pinocchio his nose just keeps growing.
Whatever his goals are, his chances of making a difference in this election are nil.
In 2000 he received 2.7 percent of the vote. In 2004, he received only 0.3 percent. With that kind of rejection he still says he is not a spoiler.
In 2000 Nader received 97000 votes in Florida. Votes that mostly would have gone to Gore and eliminated the counting and judicial skullduggery that followed. Gore would have been President these last eight years with decidedly different consequences for the United States and the World.
In 2004 Nader was only on the ballot in thirty three states and he had to file numerous lawsuits to reach that total. I wonder who paid for registering in those states as well as the litigation. Do you think he was helped by the Republican Party, who he served so well in 2000?
With just .3 percent of the vote in 2004 it seems Nader's capacity for doing damage in a presidential election is gone. Nader was at his best working inside the Democratic Party it is a shame that the first paragraph of his obituary will state the fact he was the spoiler who enabled George Bush and his cadre to seize the Presidency in 2000.
It should be said that Ralph Nader has raised and spent a lot money on noble causes in behalf of the American people. Therefore he must believe what he is doing is for a worthwhile cause and not just for his personal enrichment or aggrandizement.
In his announcement he states the what is wrong with our democracy and the refusal of both parties to redress these issues. He points out that approximately 1500 corporations through their lobbyists receive the attention and much of the benefits of the government. What he says is true but for him the best way to address these problems is to work through the Democratic Party not by starting a third party.
However he appears hell-bent on having the term spoiler on his tombstone even when his capacity to be one is gone no matter what the loss to his reputation
Bernanke's Hobson's Choice. Interest Rate Cuts that Stimulate the Economy Or Cause Runaway Inflation?
The policies of the Bush Administration are coming home to roost.

Over just eight days in January, The Federal Reserve cut interest rates by 1.25 percentage points. This was the biggest one-month rate decrease in a quarter-century. Ostensibly this was to ease credit rates particularly with mortgage lenders so many people could refinance their fixed and adjustable rate mortgages and avoid default. This would help defuse the sub prime mortgage crisis. However inflation has reared its ugly head and the lenders have not dropped mortgage rates but raised lending standards requiring more creditworthy borrowers than those who need to refinance the most. In fact since the initial January cuts mortgage rates have steadily drifted upward because bankers see the threat of inflation on the horizon. The CPI increased at a 4% annual rate in December.
Now we have the spectre of stagflation, no growth or negative growth and inflation confronting the economy. We have seen this before under Ronald Reagan. Paul Volcker the chairman of the Federal Reserve at the time countered the crisis by sharply raising interest rates to stop the inflationary spiral. It resulted in the highest unemployment rates since the Great Depression. It was a bitter pill but it worked. Bernanke is not facing the same degree of inflationary pressure as Volcker. However decreasing interest rates to loosen credit, along with increasing oil prices coupled with the expenditures for the Iraqi War and the Bush tax cuts have created an explosive situation that could lead to run away in inflation.
Greensphan was able to cut interest rates to 1% after the tech bubble burst but he didn't have to contend with inflation. His concern was deflation which is as bad as uncontrolled inflation but fortunately it never occurred.
Bernanke has only one choice, which is a Hobson's choice, and that is to cut interest rates again to avoid a recession and hope inflation doesn't get a foot hold on the economy.
Bernanke will Earn His Pay Over The Next Year.
Did Shakespeare foresee Bill Clinton's Misstep in South Carolina as indeed he foresaw the other stages of his life? "His youthful hose, well saved, a world too wide For his shrunk shank;"
THE SIXTH AGE SHIFTS
INTO THE LEAN AND SLIPPERED'D PANTALOON,
WITH SPECTACLES ON NOSE AND POUCH ON SIDE,
HIS YOUTHFUL HOSE, WELL SAVED, A WORLD TOO WIDE
FOR HIS SHRUNK SHANK; AND HIS BIG MANLY VOICE,
TURNING AGAIN TOWARD CHILDISH TREBLE, PIPES
AND WHISTLES IN HIS SOUND.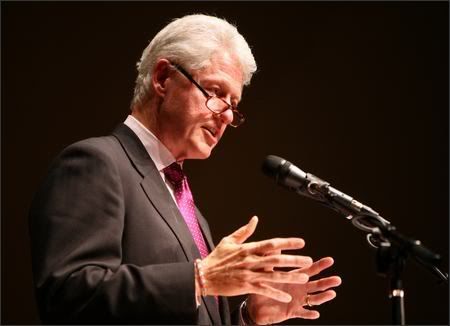 Bill Clinton gave words to his thoughts and a lot of other people's thoughts when he inferred that the election in S. Carolina was being skewed by issues of race and gender. It turns out that the exit polls demonstrated that many people appeared to have voted along race and gender lines instead of on experience and qualifications. However to make an issue out of this would tear the Democratic Party asunder. This thought was best left unsaid as it would weaken the fabric of the Democratic Party and make who ever is nominated vulnerable to the Republican onslaught of vilification, aspersions and lies that is sure to come in the general election. Shakespeare seems to have foreseen this phase of Bill Clinton's life or perhaps it is more evidence in general of life's "tale told by an idiot, full of sound and fury, signifying nothing." Let's hope this event was an anomaly or sound and fury signifying nothing that will not be true of the remaining primaries or the general election. Bill Clinton being as close as he is to Hillary and her quest is to be forgiven for speaking his mind in a situation so emotionally charged for him and his family. The passage from Shakespeare follows and the bolding and insertion are by another.
All the world's a stage,
And all the men and women merely players:
They have their exits and their entrances;
And one man in his time plays many parts,
His acts being seven ages. At first the infant,
Mewling and puking in the nurse's arms.
And then the whining school-boy, with his satchel
And shining morning face, creeping like snail
Unwillingly to school. And then the lover,
Sighing like furnace, with a woeful ballad
Made to his mistress' eyebrow. Then a soldier,(politician warrior in Clinton's case)
Full of strange oaths and bearded like the pard,
Jealous in honour, sudden and quick in quarrel,
Seeking the bubble reputation
Even in the cannon's mouth. And then the justice,
In fair round belly with good capon lined,
With eyes severe and beard of formal cut,
Full of wise saws and modern instances;
And so he plays his part. THE SIXTH AGE SHIFTS
INTO THE LEAN AND SLIPPERED'D PANTALOON,
WITH SPECTACLES ON NOSE AND POUCH ON SIDE,
HIS YOUTHFUL HOSE, WELL SAVED, A WORLD TOO WIDE
FOR HIS SHRUNK SHANK; AND HIS BIG MANLY VOICE,
TURNING AGAIN TOWARD CHILDISH TREBLE, PIPES
AND WHISTLES IN HIS SOUND. Last scene of all,
That ends this strange eventful history,
Is second childishness and mere oblivion,
Sans teeth, sans eyes, sans taste, sans everything.
William Shakespeare – All the world's a stage (from As You Like It 2/7)